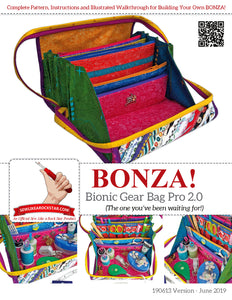 Sew Like A Rock Star
#PDF-BZ19-ARCHIVE VAULT-BONZA!-Full Pattern & Tutorial PDF Only (2019)
Regular price
$11.05
Sale price
$17.00
Unit price
per
IMPORTANT UPDATE SEPT 7th '23:   
This version of this pattern is now being moved to our Archive Vault
This one is 35% off - but no other discounts are available for it.


A NEWER VERSION is being released today. 
The Update includes: 
• Fewer pages - there's a story there! 
• Double Tabbed Exterior Zipper
Includes "Fork U" Changing Zipper Pull Instructons
• Bound Exterior Zipper Construction
•  The "Bonza Fix" for Easier Rod Installation Process




- - - - - - - -- - --
PREVIOUS DESCRIPTION 
For those folks that just want the paper pattern... here it is!     

Approx. Dimensions
  Closed:  front to back 'footprint' = 6",   10" wide, 6.5" tall
Open: front to back 'footprint' = 10.5", 10" wide, 6.5" tall

NOTE:  You should also grab the FREE "BONZA FIX" video and watch that prior to making this bag - IF THIS IS THE VERSION YOU HAVE - it is helpful for some people that have machines with "low hanging apparatus" at the machine head.  

The BONZA gets its sharp shape by the use of stainless steel rods that are inserted in the exterior seams (by the exterior zipper) as well as a few inside the bag.  The rods are available on our sister site:  shop.sewmuchnicer.com . 
Just do a search for " BONZA" to find them. 
Once you make your purchase, you will get info to be able to download your PDF.  

Important: VIPs - Before you download this for free/your price,
CLICK HERE to see an info page.

You may need to check your email account for an email from delivery@uplinkly.com 

VIPs:  This is included in your membership.  Do not buy if you do not see a deep discount!   If you have problems accessing your PDFs in your download area, please write us using the CHAT on sewing.school  and we will get you fixed up quickly.

All sales final on all digital/downloadable goods.  No exceptions.