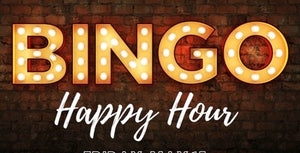 sewing.school
Thursday Happy Hour BINGO
Regular price
$6.00
Sale price
$20.00
Unit price
per
READ CAREFULLY, PLEASE! 

Hey gang... I've got goodies to give away! 

Because we cancelled all of our live events due to the plandemic, I have LOTS of goodies that would have been included in the retreat goodie bags. 

Pick your own BINGO numbers.   We'll be drawing the numbers during the live happy hour. 

 
VIPs - Check for your VIP pricing on this item!  We appreciate you! 

This is for US folks - shipping is included.
Those of you International fabulous people can play, too - but - sorry, you will be invoiced for shipping prizes.     

1.  Please check our calendar - click on link below. 

EVENT CALENDAR on SEWING.SCHOOL 
2.  Choose what Happy Hour Bingos you want to register for
(You may register for more than one at a time)

3.  IMPORTANT: Be sure to purchase the correct number of Bingo nights you plan on attending. 

4.  IMPORTANT:  After you purchase this item, please....Send your
    a.  name,
     b.  dates you registered for, 
       c.  and your 5 bingo numbers (between 1-25) for each date.

Email this info to sallyj@sewing.school.com.  Please.... USE BINGO in the subject line!!!   Please send your email as soon as you can so we have time to make the list prior to the happy hour. ❤️

5.  Prizes for the night are dependent on the number of registrants. 
I'll give away 1 prize for every 5 playing.  Ex: 25 players, we'll do 5 games. 
Last game - $100 prize value. 
The fees collected will be spent on shipping and prizes only for participants.

The more the merrier!