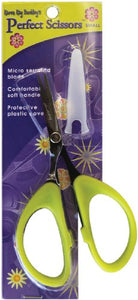 Karen Kay Buckley
Sally in Colorado: FAVORITE SEWING STUDIO SCISSORS Karen Kay Buckley 4-Inch Perfect Scissors (51220)
Regular price
$16.80
Sale price
$19.95
Unit price
per
Sally's note:  These are my all time favorite scissors to have near every machine, at the ironing board, at my cutting mat area, etc.

If you haven't tried these, GET A PAIR!   They have a micro-serration that makes it easy to snip threads without the thread ever sliding! 

Super sharp points.

I have about 6 of these floating around here, as well as one in my BONZA bag for travel to retreats or classes. 

Brand: Karen Kay Buckley
Color: Green
Features:
This special micro-serrated blade pulls the fabric into the scissors rather than pushes it away
Includes one 4-inch by 2-1/4-inch scissors, cover
Great for detail cutting on curves and points
Imported
Details: KAREN KAY BUCKLEY-Perfect Scissors. Love the way a serrated blade cuts through fabric! This special blade will pull the fabric into the scissors, rather than pulling it away like traditional scissors. This scissors features a cushioned handle, ideal of right- or left- handed people, blades sharp to the very tip, serrated blade to keep fabric from fraying, and are lightweight and comfortable. This package contains one 4x2-1/4 inch small scissors with plastic protective cover. Imported.
Package Dimensions: 6.0 x 2.1 x 0.3 inches
Languages: English