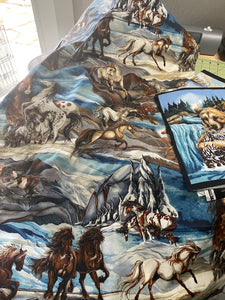 Sally's DeStash
DeStash-1009-Outdoors Mix
Regular price
$115.85
$0.00
Unit price
per
See Description & Shipping.  Selvedges may be already cut off.

Once upon a time, Sally had a boyfriend that thought he wanted to make a quilt.   lol

This group weighs 66.2 OZ - not pre-washed.  
A yard of fabric weighs approx 5-6 oz - depending on whether selvedges are still on, etc. 

There is about 6 yards of the main animal fabric.  Also includes some small panels, as shown.