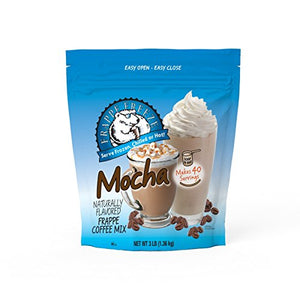 DaVinci Gourmet
Debby in Alaska: DaVinci Gourmet Frappe Freeze Frappe Coffee Mix, Mocha, 3 Lb Bag, 40 Servings
Regular price
$17.50
$0.00
Unit price
per
Debby in Alaska:   Best stuff available!   Mix it half and half with hot chocolate powder and makes a super delicious hot chocolate.  Best drink in the Tundra.  lol



Brand: DaVinci Gourmet
Features:
Frozen Mocha: rich chocolate gets a caffeinated kick in our frappe freeze Mocha ice coffee mix, pairing a refreshing chocolatey taste with thick, creamy texture Inspired by an ice cream shop favorite.
Decadent delight: we source the highest-quality ingredients & carefully blend them for incredible flavor & an unforgettable taste experience with a heavenly balance of rich chocolate & coffee.
Make it your way: serve this delectable mix frozen, chilled, or hot! For a custom flavor, Add a drizzle of one of our many DaVinci Gourmet Flavored syrups, & finish with a dollop of whipped cream.
Gourmet quality: Our syrups, sauces & coffee & smoothie mixes feature perfectly balanced sweetness & an array of 170 tasty flavors to complement hot & cold beverages from coffee to tea to lemonade.
Coffee innovation: our story starts in Seattle in 1989. Inspired by the Specialty coffee market boom, we developed a superior syrup with perfect flavorful or cold—for the pioneering beverage creator.
Binding: Grocery
Release Date: 29-01-2018
Details: Naturally flavored and made with premium Robusta coffee, Enjoy this beverage experience frozen, chilled, or hot. 3 pound bag.
Package Dimensions: 10.0 x 9.0 x 2.8 inches