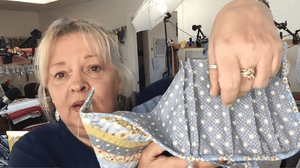 sewing.school
Basics - BONZA & BGB FIX Modification - Easier Rod Placement
Regular price
$0.00
$0.00
Unit price
per
To view this video -
• Log In
• "Buy" the item (even if it's free) - add it to your cart
• Check out.  (even if it's free)
•. Your video will be available in your personal "My Courses/Events link
   (at the top of the home page)
About this one:
Approx 6 minutes


This is a supplemental video / info for building BONZA or Bionic Gear Bag

with the steel rod reinforcements.
When I made the first BONZAs, I used two different machines to make two different BONZAs to test.   Everything went fine.  (A Bernina 720 -circa 2016 model, and a Juki 2010)
Then, soon after the pattern was released, one of our members said she was having an impossible time getting her project to lay down enough under her machine for one step.
So, we decided to recreate the problem one weekend, just for fun, doing a Sally Sew A Long at the very beginning of the scamdemic.   (It's he only time you're going to see my hair that much of a mess and my nails not done!!!!! - egad, that was baaaaad!) 


There is a problem with building this on some machines that "have low hanging apparatus" near the needle.   Could be an automatic needle threader, or magnifiers, etc.
You'll find this works well no matter what machine you're sewing on.   This step will be included when we revise this pattern - hopefully by late 2023, depending on Sally's voice problem.